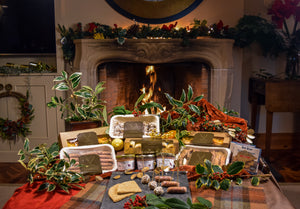 CHRISTMAS 2023
Build Your Own Hamper with our range of Christmas Game delights styled to give you a mix of show stopping centrepieces, ready-prepped easy-eats, and delicious game grazers perfect for sharing (or not!).

Everything in our Christmas collection is available individually, perfect for topping up your favourites in your hamper, so dive a look and get lost in our world of sustainable, festive dining and make this year's Christmas feast one to remember.
SHOP NOW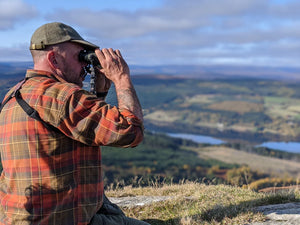 Waste reduction, eco packaging or miles-per-sausage, this interesting read will give a glimpse into what we stand for and what we're here to achieve at Woodmill.
OUR VALUES
LEARN MORE
Looking to truly understand the benefits of eating Wild food? Here's where you'll find all the answers to your questions about sustainable eating.
WHY EAT WILD?
OUR COMMITMENT TO SUSTAINABILITY
"As deer managers, we are passionate about these beautiful, enchanting, graceful beasts and ensuring that populations remain healthy and sustainable in realistic numbers. This will be achieved by allowing well planned, selective culling (the old and the weak must make way by leaving food for the young, strong breeding stock), skilled land management to ensure there are good heather moorlands and mature forests, and encouraging deer stalking as an accessible sport that can be enjoyed and appreciated by anyone."
VIEW FROM THE HILL
READ THE BLOG
Woodmill Recipes
---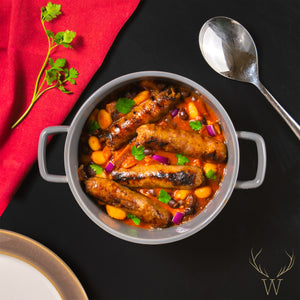 The beauty of this quick little recipe is that it works with every single one of the Woodmill Game sausages. Made with only a few ingredients and a cooking time...
  Perfect for a nice meal a deux, and always impresses at dinner parties. A treat of a cut, as tender as it sounds and enhanced with our delicious jus. It requires...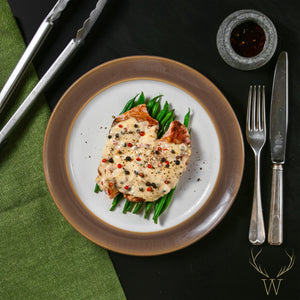 Fancy something light? Introduce Game to your weekly diet with a Woodmill take on a classic. Our Peppercorn Game Breast recipe is a mouth-watering alternative to chicken and a tasty...